Research news
The Aarhus University Research Foundation PhD Award
Jesper Aagaard, the Department of Psychology and Behavioural Sciences, is one of the five recipients of this year's PhD award.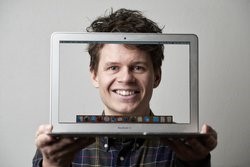 For the 16th time, the Research Foundations presents a group of award winners whose research is of an exceptionally high quality. One of the award winners, Jesper Aagaard, is from the Department of Psychology and Behavioural Sciences. He has applied a post-phenomenological conceptual framework in his study of digital learning tools and young people's technological habits. Apart from Jesper Aagaard, four other PhD students received the award. Each recipient gets DKK 50,000 in recognition of their research and their research dissemination.
The five recipients were selected by Aarhus University and the Research Foundation. In their assessment, the committee not only deemed the winning theses to be of excellent quality, they also looked at the way in which the award winners have completed the PhD programme.
A NEW PERSPECTIVE ON DIGITAL DISRUPTION IN THE CLASSROOM
EDUCATIONAL PSYCHOLOGY
When psychologist Jesper Aagard worked as a student instructor during his Master's degree, he noticed how he sometimes had to compete with Facebook for the attention of the otherwise rather disciplined students. With his PhD project, Jesper has now contributed to a more detailed understanding of what dynamics are at stake in such a situation.
"When researchers in pedagogical psychology work critically with technology in the classroom, the main focus has so far mainly been on multitasking. I have approached this concept from a rather critical perspective. I prefer to talk about distraction," he says.
So far, there has been little focus on this distinction. For this reason, Jesper Aagaard has developed his own conceptual framework on digital distraction. Here he draws a great deal on philosophical thinking from the field of post-phenomenology.
With this as his starting point, Jesper Aagaard conducted three empirical studies designed as participant observation as well as qualitative interviews among pupils in upper secondary school. The studies reveal a great deal about the pulling power of social media in particular. And about how technological habits can affect the quality of learning and social interaction.
Congratulations to Jesper Aagaard!