People and cultures
Staff
Public/media
New psychology researcher focuses on issues of leadership
Evangelia Fragouli, new Assistant Professor at the Department of Psychology and Behavourial Sciences, will continue her extensive research within the area of organizational psychology.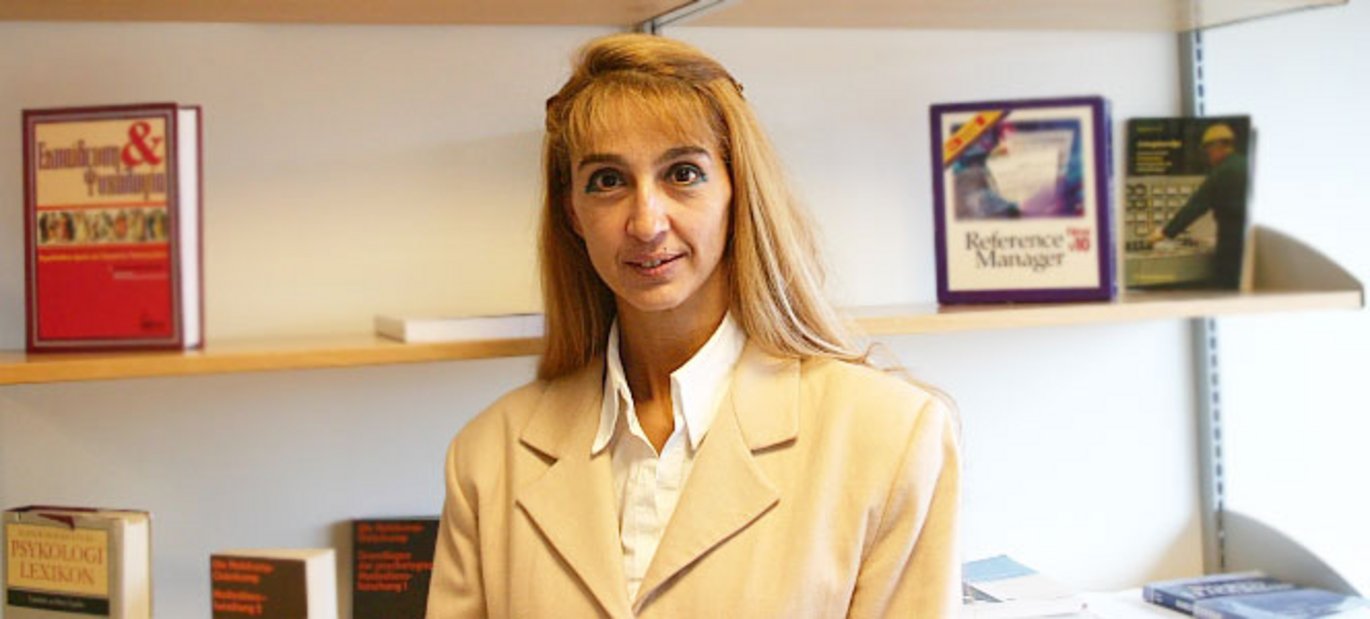 [Translate to English:] Evangelia Fragouli has been offered a position at Business and Social Sciences and a chance to continue her extensive research into various areas of organizational psychology. This has also given her the opportunity to fulfil her wish of gaining work and life experience in a foreign country. For the past 10 years, Evangelia Fragouli has been living in her home country, Greece, where she held a position at the University of Athens.

Research into organizational psychology
Evangelia Fragouli is no stranger to living in foreign countries: She earned her Master's degree in Counselling Processes in Psychology at Harvard University, where she graduated with distinction, and she earned her MPhil and PhD at Columbia University – both in the USA. There she became interested in organizational psychology with focus on workplaces and the psychological aspects involved:
- I'm mostly interested in the application of psychological principles, theories and approaches at the workplace. My focus is on the organizational and psychological issues at the workplace, placing special emphasis on leadership and Human Resources development and performance in organizations. Leaders in all organizations face very complex challenges that involve more than just productivity, says Evangelia Fragouli.
Focus on issues of leadership at Aarhus University
One of the reasons why Evangelia Fragouli signed her contract at Aarhus University was the university's reputation and the research conducted here:
- I knew about Aarhus University before coming here. I found the university attractive as a workplace because a lot of research on organizational psychology and leadership is being done. This ties in very well with the research I've done myself, and I wish to continue working within these academic fields, says Evangelia Fragouli.
So far Evangelia Fragouli has landed a three-year contract at the Department of Psychology and Behavourial Sciences. Here she will join various projects as well as form projects of her own:
- I'm working on specifying a research project. I want to focus on psychological issues related to the times we are living in. We have a worldwide financial crisis which exerts a lot of negative influence on workplaces and adds a great amount of insecurity. Employees are worried about losing their jobs. My research will try to answer the question of how leaders should act, Evangelia Fragouli explains.
Enjoying Aarhus
Evangelia Fragouli has already grown fond of Aarhus and Scandinavian culture:
- I like the fact that Scandinavia is so well organized, and I enjoy interacting with Danish people in my everyday life, says Evangelia Fragouli.
Settling down in a new country and adapting to a new workplace means that Evangelia Fragouli does not have much spare time. However, she spends a lot of time trying to learn Danish:
- I started taking Danish lessons the day after I arrived here. It's interesting though it's very difficult, but being exposed to Danish culture makes it easier for me to learn. I also take tango and salsa lessons when I have enough time, and I enjoy going to the opera and classical concerts here in Aarhus. I want to integrate into life and culture here by participating in activities that interest me, says Evangelia Fragouli.