Researchers hope that life stories can help people with mental disorders
In a new book from Cambridge University Press, researchers from the Department of Psychology and Behavioural Sciences outline the theoretical basis for what they hope will become a widespread method to help people with mental disorders.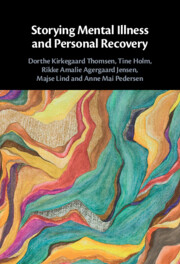 The book is called Storying Mental Illness and Personal Recovery and it is built around a collection of 118 life stories from people with depression, schizophrenia, bipolar disorder, borderline personality disorder and other mental disorders.
The stories illustrate how mental illness can affect our narrative identity – our narrative about ourselves. Equally importantly, the stories are about how working with narrative identity can help people to live a good life with mental illness; in other words, help them to personal recovery.
"The stories indicate that you can improve your well-being by looking at your own life story and perhaps working with the narrative about yourself," says Dorthe Kirkegaard Thomsen, professor at the Department of Psychology and Behavioural Sciences at Aarhus University, and one of the authors of the book, together with her colleagues Tine Holm, Rikke Jensen, Anne Mai Pedersen and Majse Lind.
In the book, the authors develop a practical guide on how to work with narrative identity to support personal recovery.
The guide is based on theory and previous research related to the field. The authors synthesize this literature with the 118 personal accounts they have collected and develop a new theory and guide to intervention.
"In the next few years, we hope to be able to refine the method and perform the solid testing required to scientifically document the effect. We then hope to disseminate the method to help as many people with mental disorders as possible," says Dorthe Kirkegaard Thomsen, and she adds:
"Clearly, such interventions have to be tested in several steps and at large scale, both under controlled conditions and in relevant practice contexts, but we see much potential to help severely affected people using relatively simple means."