People
Congratulations to the lecturer of the year: Thomas Jønsson
Thomas Jønsson from the Department of Psychology and Behavioural Sciences at Aarhus BSS has been named lecturer of the year. The award is presented to an individual who has demonstrated extraordinary commitment and professionalism in his/her teaching. The students describe Thomas Jønsson as a lecturer who displays "super-human commitment and a rare dedication to his work".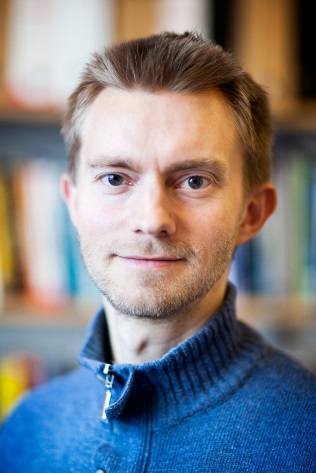 Thomas Jønsson is associate professor in work and organisational psychology and is involved in the organisation of the teaching in these fields on Bachelor's. Master's and PhD level at the Department of Psychology and Behavioural Sciences and on the Master of Public Governance programme.Thomas Jønsson receives the award on the following grounds:
An academic and personal motivator
The award committee are very excited about Thomas' active and inclusive teaching approaches and the fact that he incorporates cases and workshop elements into his teaching. They also appreciate his work to develop the students' feedback skills. He is a great inspiration to both his students and colleagues on an academic as well as a personal level.
Thomas is very happy and honoured about receiving the award:
"It's funny that I've been named lecturer of the year, since it wasn't a title I was actively pursuing. I generally like teaching when I have the necessary resources available and feel that the students are with me and are engaged in the work. When the relationship between teacher and students is a success, it's a pleasure to teach.
I've also been really lucky to be part of an academic section from the very advent of my research career as a PhD student. Back then, the head of the section – Professor (now emeritus) Hans Jeppe Jeppesen – encouraged us to be open to new ways of doing things, experimenting and freely reflecting on and assessing what works and what doesn't work and how we may improve. We also collaborated a great deal. Being part of such a productive environment has been invaluable. I've made lots of mistakes that I've had to rectify, and I've been given the freedom to do so, as long as I used it as a constructive learning experience.

According to Thomas, as a lecturer, it is crucial to maintain and strengthen your autonomy and freedom to experiment with innovation:
"It's a great motivational factor and it heightens your level of commitment to your work, and that improves your teaching – and makes it more fun. It's hard work being creative and delivering quality services in a system that is under more and more pressure, and where 'the sausage factory' metaphor is becoming ever more meaningful."

Sharing advice and experiences with fellow teachers
"The most valuable advice I can give is probably one that fits the spirit of the university: be critical. Maintain your autonomy and freedom, and don't give in to the advice of pedagogical gurus or experts.
I think, as a lecturer, you should gather as much inspiration as you can, but in the end you need to make your own informed decisions about what to do and how to apply certain techniques. In this way, you will be able to incorporate your own point of view into your teaching. Another thing: listen to the students and allow yourself to be inspired (but don't give up your autonomy). I've gained a lot from informal 'interviews' with, for instance, student assistants or talking to the students during breaks. You learn a lot more from actually talking to them than you do from reading their evaluations. The evaluations can tell you whether you've reached the objectives, and so on. So I've mostly found them useful as indicators."
The award ceremony took place at the Aarhus BSS School Celebration on Friday 19 June.
The award comes with a diploma and a grant of DKK 50,000.
Further information
Thomas S. Jønsson
Mail: thomasj@psy.au.dk
Tel.: +45 87 16 57 97
Mobile: +24 45 94 09 08